DC Strategy take home 'Best Franchise Consulting' award at Global Franchise Awards
We are delighted to announce that, DC Strategy has won a prestigious award at the Global Franchise Awards ceremony in Orlando, Florida. Judged by an independent panel of key impartial industry experts, the winners were announced at the Crystal Suite, Orlando World Center Marriott on 7 February 2020, as part of the IFA Annual Convention (International Franchise Association).
Among the winners were franchising's top brands, international experts and leaders in the industry - all rewarded for their franchising success in different areas. The coveted Global Franchise Champion award went to Little Kickers and the Best Emerging Franchise accolade was awarded to Lindex. The judges focused on the brands ability to demonstrate truly global intentions, display a strong relationship between franchisor and franchisee and show innovative marketing and growth plans, and most importantly; if the organisation had advanced the cause of international franchising.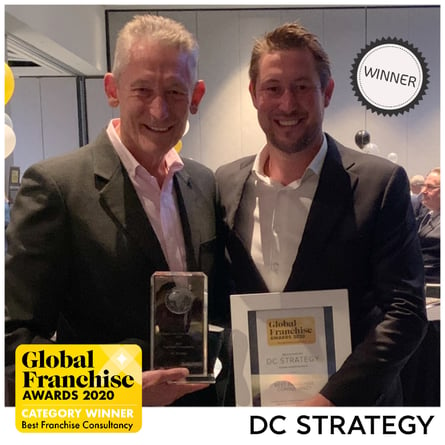 Organised by Global Franchise Magazine, the awards began in 2019 and were introduced to recognise franchise excellence on an international stage. Global Franchise Editor, James Fell was delighted by this year's event, saying; "Once again, we were blown away by the level of entries we received for this year's Global Franchise Awards, the annual celebration of excellence in global franchising. Not only did the scheme generate a remarkable level of activity, entries and growth, but the calibre of applications was extremely high this year, making it a very tough job indeed for our expert judging panel."
New categories were also introduced to freshen things up for the 2020 edition of the Global Franchise Awards. Some of the newly-launched categories included; Best Franchise Lawyers, Best Franchise Consultants and Contribution to International Franchising, ensuring that the event could celebrate and include as many areas of the global franchising landscape as possible.
As Australia's leading franchising firm, we took home the Best Franchise Consultancy trophy. Our company, DC Strategy, founded by Rod Young in 1983, is the only end-to-end franchise consultancy, law firm and franchise recruitment and marketing agency in Australia. We have developed scores of Australia's well known franchise brands, many of which they've taken across the world. We have also been responsible for bringing many iconic international brands to Australia and growing their footprints across the region.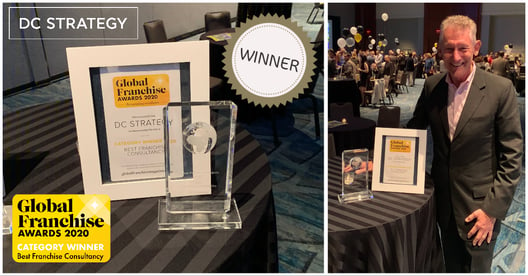 DC Strategy representatives, Rod Young and James Young were both at the awards ceremony and are grateful for the international recognition, saying "We're delighted to be recognised for our franchise development and consultancy work over the past 35 years and we look forward to even more success across our different divisions in the future. DC Strategy is leading the way in franchise development, franchise law and franchise sales and marketing and we're extremely proud of our track record. Our mission is to help big and small businesses grow across Australia and around the world." - Rod Young, DC Strategy Founder and Chairman
Find out more about the 2020 winners - www.globalfranchisemagazine.com/awards/winners