Poolwerx applies new measures to offer a business for the future
In these uncertain times, it's important to focus on positive stories and the ways in which people and businesses have adapted to adhere to government restrictions. We're all affected in some way or other and it's also changed the way that the Poolwerx business operates. Most importantly though, there is light at the end of the tunnel.
The award-winning franchise network has stepped up to the COVID-19 challenges and put systems in place to offer their essential services to residential and commercial customers around Australia, without too much disruption.
Poolwerx has changed the way that they deliver products, maintain pools and spas and provide water testing. The team has introduced contact-free services and home-delivery solutions to support the community as more families practice social distancing or self-isolate.
Contact-free service options include:
Storefront water testing (Water testing at our stores without needing to step out of your car. All you have to do is bring your water sample)
Water test and treat (Includes comprehensive poolside water test and application of required chemicals by a qualified technician)
Water test and deliver (Includes comprehensive poolside water test and required chemicals left for you to apply)
Chemical home delivery (You tell us the chemicals you need, we'll deliver and leave the items in a pre-agreed safe space)
New measures have also been implemented to help potential Franchise Partners go through the complete franchise sales and onboarding process from the comfort of their own home. The team is utilising video conferencing technology and virtual meetings with the franchise development experts are currently replacing the usual face-to-face meetings in the recruitment process.
If you're interested in a franchising opportunity with Poolwerx, remember that the franchise sales process usually takes a couple of months - so now is a great time to start your journey! Look forward to the future and remember that franchising can still offer a great opportunity for anyone wanting to own and operate a business that's backed by a proven business model with ongoing training and support. It's in these difficult times that we remember why owning a franchising business has great benefits.
The Poolwerx franchise opportunity
Joining Poolwerx as a Franchise Partner represents an exciting investment opportunity where you can put your past experiences and advanced skills to the test. It's an exciting business opportunity that allows you to effectively and confidently run a new or existing Poolwerx business.
With a proven business model and successful track record throughout Australia, New Zealand and the United States of America, Poolwerx offers partners a range of franchise opportunities. These include converting your existing service vehicle or retail pool and spa business to join the Poolwerx brand, opening a new service route or retail store or buying an existing Poolwerx franchise. No matter which option you choose to take advantage of, you'll be supported every step of the way by the Poolwerx expert team.
The Poolwerx model uniquely offers many ever-increasing income streams. These include retail sales, domestic and commercial pool servicing, spa and lifestyle product sales, and pool renovation. The mix of both retail and service, chemicals, equipment and labour sales provides great balance in the business.
Poolwerx Franchise Partner Benefits
Owning a Poolwerx franchise business is easier than you think - you'll be supported every step of the way.
Key franchise benefits include:
Multiple income streams
Leading marketing support
Global brand recognition
Purchasing power
A booming industry
State-of-the-art training facilities - Pool School
Private Coach for franchise partners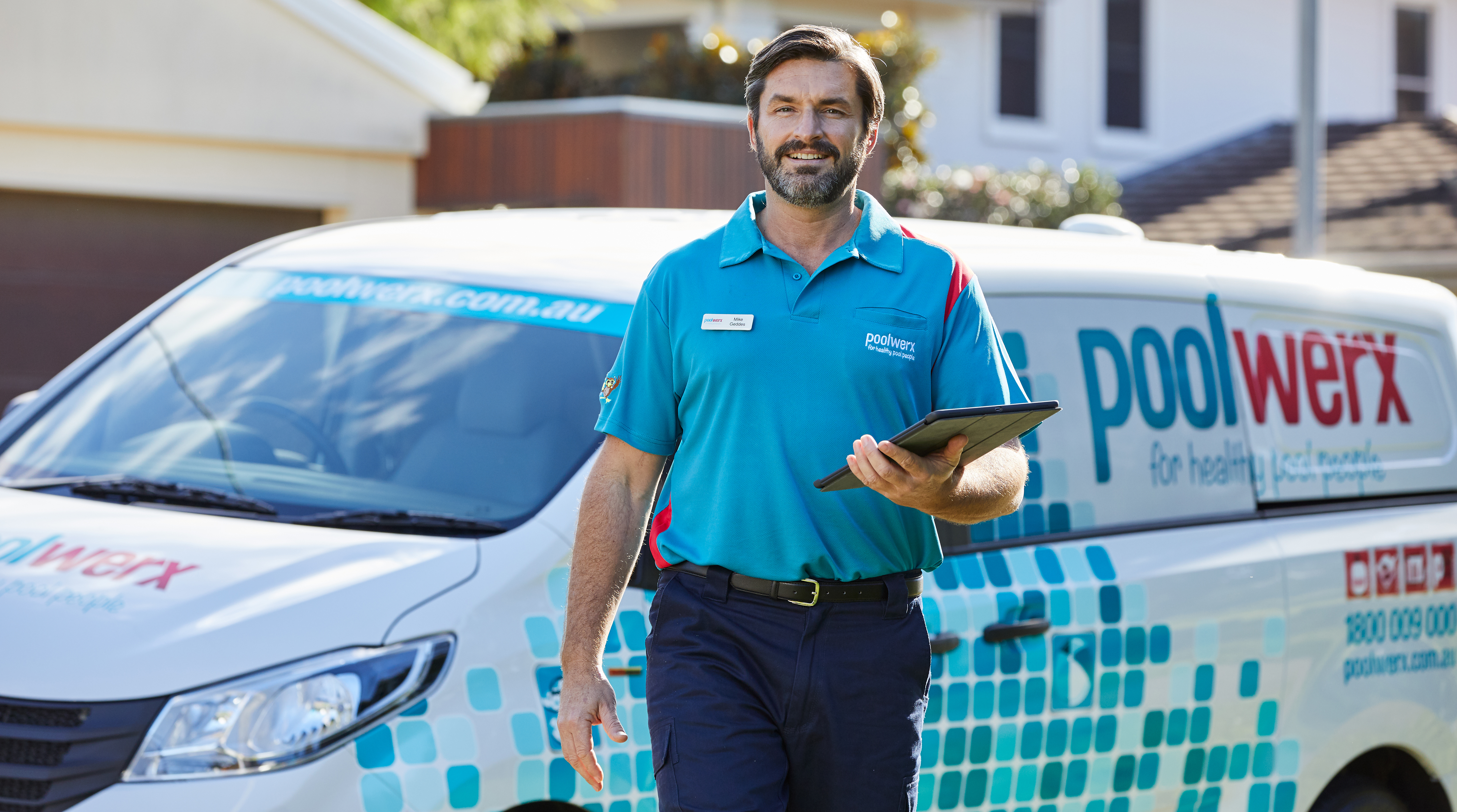 Clearly stand out with Poolwerx
Interested in owning a Poolwerx business? You could become your own boss and enjoy a balance of independence and support from a larger group. Now is the time to make an enquiry about becoming a Franchise Partner in Australia or New Zealand. This is your chance to consider all your options and take that next step!
Submit an enquiry today to find out more about this franchise opportunity. In return, the Poolwerx franchise development team will provide a comprehensive franchise brochure and answer any questions that you may have.