New Ben & Jerry's store ready for take off!
Wellington Airport is now home to Ben & Jerry's most innovative store yet.
In a world first, the colourful new Ben & Jerry's airport scoop shop boasts the least packaging out of their 577 global stores.
The exciting addition is part of the popular ice cream brand's expansion strategy in the capital city and across the country. The news of the Wellington Airport pop-up follows recent confirmation of new stores launching into Christchurch and Queenstown. In another first for the American ice cream giant, the store will take on a 6-month cashless trial - and if successful - will roll out the process across the country and around the world.
Stephanie Tannous, Ben & Jerry's Australia and New Zealand brand lead, said New Zealand had a long-history of payment advances with the early introduction of Eftpos, the roll out of cashless payment systems across toll roads, parking and public transport, which made the capital the right place to trial a cashless store.
"We are a global brand, we often share our learning's across countries. Following this trial, we will collate all our information and share this globally. If it is a success, other countries will use this as a case study."
The new scoop shop, located near gate 20 in the domestic terminal, officially opened on Saturday 17 August, with a number of travellers stopping by to taste and take part of the opening action! No matter if passengers are arriving or departing from the creative capital, anyone visiting the world class airport can schedule a stopover at the new Ben & Jerry's store for a first-class scoop of delicious ice cream.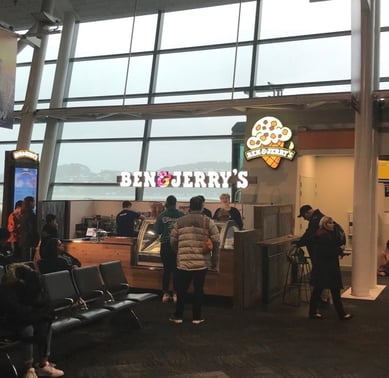 Their sustainable developments continue Ben & Jerry's long-standing mission of leveraging innovation to better the planet and serve up the tastiest ice cream filled with tubs of chocolate chunks and swirls, made in the nicest way possible. That's their promise!
The new location has their sustainability and innovation mission at the core:
No ice-cream cups, only cones
Certified compostable bioplastic shake and sundae cups made from plants not oils
Napkins made from recycled materials
First cashless scoop shop
Bert Naber, Country Manager Ben & Jerry's, Australia and New Zealand, says that Kiwis' love for Ben & Jerry's has facilitated the brand's growth throughout the country and therefore allows for continued innovation.
"Our social mission lies at the heart of everything we do, increasing our impact as the business continues to grow. Our Wellington airport scoop shop allows us to continue this mission and makes it easier for Kiwis to get a hold of our famous chunks and swirls".
Ben & Jerry's stand for what they believe in and their new store is no different!
So what's next for the Ben & Jerry's franchise? More scoop shops of course!
The team have confirmed new locations around Australia and New Zealand with multi-site opportunities available for carefully-selected franchisees. If you're interested in joining the herd, get in touch today! The Ben & Jerry's team are passionate about finding the right people who share the same values and have partnered with franchise experts, DC Strategy to find and recruit selected franchisees.
---