Ben & Jerry's scoops up a new Wellington location
Kia Ora Wellington!
The Ben & Jerry's ANZ team have confirmed the lease execution of a brand new Scoop Shop in Wellington, New Zealand. This will be their first permanent location along with their very successful 'pop-up' store that launched late last year, situated near Gate 20 at the Wellington Airport.
Need more good news? Ben & Jerry's will be mooooving into the city centre of Wellington by the end of November 2020! Locals will be able to get their hands on their world-famous treats, including scoops of chocolate chunks and swirls, their most-loved cookie dough ice cream or deliciously gooey and baked-in-store fudgy brownies, as well as the all new Dough-Licious Pizza!
Wellington's new ice cream haven is set to open on the popular Cuba Street – and the store will be run by Nick and Mel Sunseri, who are relocating from Frankton (near Queenstown) to Wellington to own and operate the Scoop Shop.
Bruce Lambert, Business Development Manager, Ben & Jerry's ANZ said that the new location is going to be a fantastic retail addition to the capital city, stating that, "We're excited to cement and grow our network across New Zealand and this new store will be nestled amongst the many restaurants and bars along Cuba street in the CBD, as part of a newly developed heritage building."
The brand new Wellington scoop store will be the seventh permanent location for the corporate social responsibility leaders and will bring the total to thirty-nine in Australia and New Zealand. There's no stopping Ben & Jerry's as they continue to build their global presence in both countries.
James Young, Head of Franchise Sales and Development at DC Strategy reflects on the Ben & Jerry's franchise recruitment strategy, saying that, "It's been a tough year for most businesses but it's also been very positive to see continuous growth for the Ben & Jerry's franchise network - especially in New Zealand. It's incredible to think that the new Wellington scoop shop marks the third franchisee to join the herd, over the last year."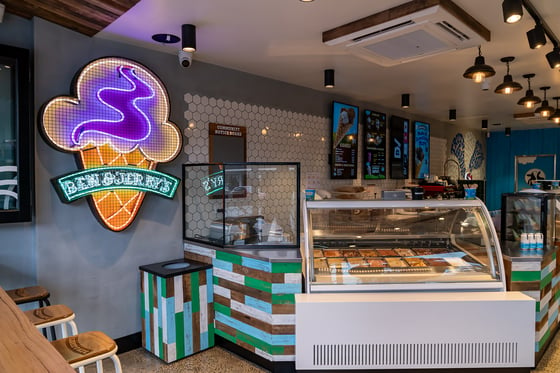 Their sustainable developments continue Ben & Jerry's long-standing mission of leveraging innovation to better the planet and serve up the tastiest ice cream, made in the nicest way possible. Ben & Jerry's stand for what they believe in and their new store is no different!
If you're interested in joining the herd, get in touch today! The Ben & Jerry's team are passionate about finding the right people who share the same social and community values.
Visit www.benandjerry.com.au/scoop-shops/franchise or www.benjerry.co.nz/franchise to find out more.
Click on the button below to book a call if you would like to chat to our team!