Red Sparrow Pizza is taking its famous vegan food to new heights!
Although COVID-19 is still taking unprecedented turns this year, pizza will always be consistently loved in all shapes and sizes.
Red Sparrow Pizza has partnered with DC Strategy to launch their brand-new franchise business opportunity expanding across Melbourne and reaching out to other states in Australia through a detailed franchisee recruitment process.
Red Sparrow Pizza is an independent, locally owned and operated vegan pizzeria which opened in February 2017 by Michael Craig and Shelley Scott who are both vegan pizza lovers. The vegan pizzeria based in Melbourne has locations in Prahran and Collingwood as well as a food truck.
Their award-winning pizza is 100% plant-based and their pizza dough is made using Napoletana techniques. Fermented for at least 48 hours to improve flavour and digestibility with each ball of dough being hand-stretched to order however, they are not bound by tradition and often experiment with unique toppings on their daily specials. All their pizzas are cooked in Italian wood-fired ovens in just 60-90 seconds creating light bases with a charred crust.
We spoke to Michael and Shelley about sharing their thoughts, tips and plans for future Red Sparrow Pizza franchisees:
How did it all start?
"We started planning Red Sparrow Pizza in early 2016 after a long time working in the hospitality industry and a desire to start something we could be proud of. We have both been vegan for a long time and felt that high quality plant based pizza was something that was missing from Melbourne's dining scene so we set out to create the pizzeria that we would want to visit."
What's next for Red Sparrow Pizza?
"We would love to grow the brand to be able to reach people all over Australia. We're looking forward to getting back out in our food truck, attending events and festivals, and bringing our food to new people."
What's your favorite pizza on the menu?
Shelley - "My favourite from the standard menu is probably the Bianca, but I really love when our Peking Duck or Mee Goreng specials are on."
Michael - "I love our mock meat pizzas like the BBQ Chick'n or Cheeseburger Pizza, but every now and then I'll try to mix it up with something healthy like the Verde or Ortolana."
What advice can you share with potential franchise partners?
"Be willing to put your all into it. You must be willing to play in all the positions to keep it running smoothly. It is not easy work but working hard to create a special place and community is very rewarding."
Why did you choose to partner with DC Strategy?
"DC strategy seemed very knowledgeable and were offering the full service from start to finish and ongoing, and as small business owners with more skills in hospitality than business we were looking for a team who could help us in all the aspects that we were unfamiliar with."
The team are on the hunt for pizza extraordinaires to take their famous vegan pizzas to more Australians around the country. They're now expanding their awesome concept with franchise opportunities available in key areas.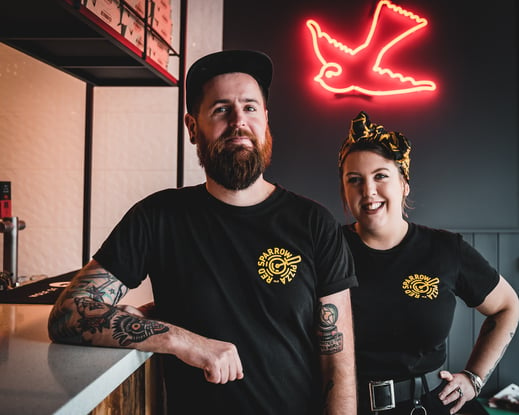 Benefits of owning a Red Sparrow Pizza franchise business:
Simple Business Model
The Red Sparrow Pizza business model is simple. Own and operate the vegan pizzeria shop obtaining minimum staff. Franchise partners can hire staff as required.
Multiple Income Stream
Franchise partners will be able to run the business as casual dine-in with a strong focus on takeaway and delivery providing a secure income in uncertain times.
Established Brand
With two sites in Melbourne and more on the way, now is the perfect time to join the Red Sparrow Pizza Team!
Ongoing Support
Should franchisees take this step with Red Sparrow Pizza, they will be fully supported and encouraged by a team that wants them to succeed.
Positive Brand and Growing Social Media Presence
Red Sparrow Pizza obtains positive online public relations presence and a great following on all social media platforms. The brand is loved by vegans all over the world who actively seek them out when in town and even attracts non-vegans who enjoy their unique flavours and out-of-this world dough!
Food Standards
Vegan and plant based pizza and other menu items will be prepared by a chef in house with quality ingredients ordered by sustainable suppliers.
Do you have what it takes to grow the Red Sparrow Pizza brand?
Enquire now to join the team: https://dcstrategy.com/franchisor/red-sparrow-pizza/