Ovenu is Australia's premium oven cleaning franchise opportunity
Ovenu is Australia's leading oven cleaning and detailing business that offers world-class customer service to homes all around Australia..
Ovenu History in Australia
Born in the UK, the Ovenu brand was formed in 1994 by Rik Hellewell and, over 25 years later, Rik is still the owner & Managing Director.
Bernard and Janet Bannon saw Ovenu on a "How clean is your house" TV show back in 2003 while living in Jersey. They loved the Ovenu concept and made enquiries about taking the brand overseas. They returned to Australia in October 2004 after securing a commitment from Rik Hellewell to open the first Ovenu business in Perth, Western Australia, with the view to expand the franchise in due course.
Since launching into Australia fifteen years ago, the Ovenu team have built a formidable franchise network with more than 30 technicians operating across multiple states.
The brand has also created a loyal customer base with returning bookings and a consistent stream of new leads each month. To keep up with the customer demand, the Ovenu team have put a new franchise marketing and lead generation strategy in place, with the help of the DCS Franchise Group.
Ovenu have multiplied their franchise territories in various states allowing for new franchisees to join the team and benefit from a low entry cost and two weeks of in-depth training. Janet Bannon, General Manager of Ovenu Australia has confirmed their expansion plans, saying that, "We're growing our franchise network to accommodate the increase in customer demand and unserviced leads across the country. We're focusing on areas in Perth, Sydney, Canberra, Tasmania and the Gold Coast to add more resources in these regions."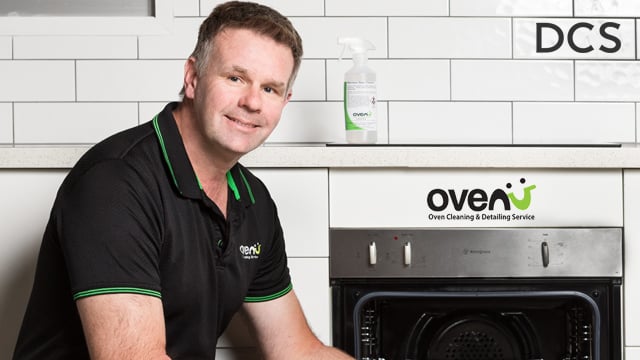 Low entry cost, high profit business model
Start-up pack provided - All new franchisees will benefit from a generous amount of our bespoke products and all the tools and materials to get started, including marketing campaigns, brand guidelines and uniforms.
In-depth training and support - The Ovenu head office team will provide 2 weeks of full training in a chosen area. State Managers will always be on hand to support, train and encourage new franchisees, with ongoing assistance provided.
Low entry cost - The investment level to own and operate your Ovenu Business will start from $39,500 + GST. You will also benefit from constant cash flow as the business model and payment structure is a pay on the day business.
Territory growth - Once your business is off the ground, you can bring family members into the business operations to help assist or build the business into a multi-van operation. Growth opportunities at Ovenu are endless!
James Young, Head of Franchise Sales at DCS Franchise Group explains that the Ovenu business opportunity is perfect for people wanting to get into business, saying that, "this is a great business that has solid structures in place and gives franchisees control of their day-to-day business and schedule. It's a fantastic mobile-run business that costs just under $40,000 to get started."
Every home has an oven and Ovenu provides a premium business opportunity that allows franchisees to work from home and schedule oven cleaning appointments to suit their lifestyle.
Find out more - www.ovenufranchise.com.au