Lollipop's Playland and Cafe - A Franchisee Story
Since 1993, Lollipop's Playland and Cafe has been encouraging kids to develop through active play. Lollipop's is now a multinational franchise network with play centres and cafes throughout Australia, New Zealand and Indonesia. Lollipop's are known for bright, colourful environments and their 'superplay' features aren't found anywhere else. The business has made a strong name for itself in the indoor recreation industry.
Cathy Maher's story began, a fellow Lollipop's franchisee, when she lived near a Lollipop's franchise in Fountain Gate and at the time the owners were thinking of selling, however, they weren't able to proceed with the purchase, but later a new site became available and she leapt at the opportunity. She purchased her first-ever franchise in 2013 with Lollipop's, which she then sold in 2016. She then purchased her second and current franchise in Lollipop's Noble Park, Victoria, Australia.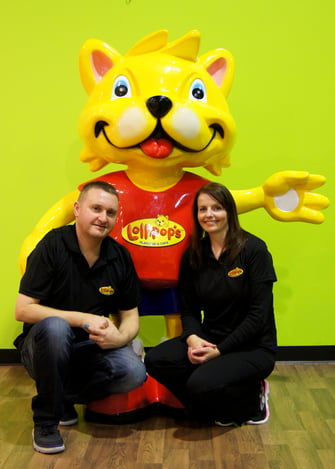 Prior to running a Lollipop's franchise, she worked at 000 initially in fire emergencies, then cross-trained to the ambulance department. She started taking 000 calls, then dispatching fire trucks and ambulances, to then becoming a team leader and running a crew. She was working a rigid rotating roster at 000, whereas at Lollipop's her hours are a lot more flexible, which allows her to do school pick and drop off for her children. It has also allowed her to let go of the reins to allow her staff to step up, though she admits she does spend a lot of time in the business, as she notes she sees it as her "baby" and wants things done right.
The turning point in Cathy's career was when she realised needed a change and found that doing shift work was quite challenging - which involved listening to people calling on the worst day of their lives in most cases. It was at this point in her life that she decided being around kids that were having fun, in a bright and positive ambience would be a better-suited environment for her.
When Cathy signed on to become a Lollipop's Franchisee she knew at the time it was for a new location, so she loved being involved in the fit-out and putting a personal feel to make the franchise her own. Cathy happily states, "We are so lucky to have Andrew Wolfe, Lollipop's Operations Manager available to help us, as well as being a sounding board for all of our venting about the challenges of staffing and management of the day-to-day business. Also, our Franchisors are always available should we want to discuss anything at all and are open to our ideas for marketing the brand as well, which is awesome."
Cathy enjoys that Lollipop's allows her to make her site unique with certain aspects. As each franchise location has different demographics, it allows the Lollipop's business plan to be very flexible and lets franchisee's offer input of great initiatives that are then shared with the whole franchise group.
Cathy's final words of being a Lollipop's franchisee are, "Understand that it is hard work, there are many challenges, but the rewards are fantastic too."
Now is a fantastic opportunity to be part of an amazing family-friendly business, in a rapidly growing industry, working with a fun brand that encourages children to develop through play and activity. Much like Cathy's franchisee story, as a franchise owner, you'll oversee the management of your own operation, working towards a high level of return that will reward you with a successful and profitable business. Lollipop's is looking for superstar franchisees to join their team.