IWG introduces Spaces OpenDesk franchise concept
IWG, the world's largest flexible workspace provider, has introduced a new workspace offering, Spaces OpenDesk in response to rapid changes to how Australians are working due to the growing popularity of hybrid working in the wake of the COVID-19 pandemic.
IWG introduces new flex workspace offering designed for retail locations amid growing demand for hybrid working.
IWG WEBINARS
Click on the links below to register now.
By 2030, it is predicted that 30% of all commercial real estate will be flexible workspace, while flexible working will be worth AUD 14.5 trillion+ to the economies of 16 leading countries, including Australia.
Following many years of continuous growth, demand for flexspace including offices, meeting rooms and coworking areas is set to increase further as businesses seek to reduce their space in CBD areas and provide employees with a safe and secure place to work close to their homes. Businesses are looking to provide work environments that are in the heart of communities in accessible locations with a short commute that are near shops and other amenities that allows employees to take meetings in a more professional environment than at home or at a local café.
This concept, that officially launched in Napa Valley earlier this year, utilises real estate such as former retail space in city centres and updates them with a customised layout. Spaces OpenDesk have been designed with safety and social distancing at the forefront, with the flex spaces created to be both homey and professional with lots of plants, accessories and top-grade coffee and vending machines.
There is an opportunity for franchise investors to scale this concept in locations across Australia as the average Spaces OpenDesk location only takes up around 300 to 500sqm, making this model ideal for retail, mixed use, and high-density developments. The retail setting and reduced floor size franchise option could also help landlords struggling with retail and other central real estate left vacant by businesses that closed during the pandemic.
Mark Bhardwaj, Head of Partnership Growth for IWG Australia & New Zealand said "The new Spaces OpenDesk model will offer an exciting franchise opportunity for interested investors. Franchise partners will benefit from IWG's dynamic marketing activities including digital campaigns and advertising for the Spaces brand. Spaces OpenDesk uses a simple and easy-to-operate business model with minimal staff required.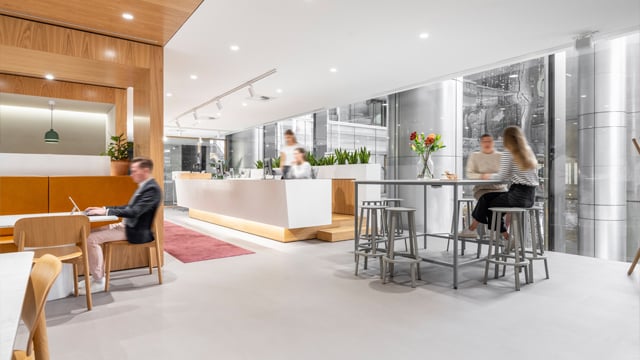 The IWG team will help Spaces franchise partners throughout this process so they have an understanding every step of the way with investors expected to own and operate at least three sites in an area as part of the IWG franchise model.
Entering the market now, as an early adopter franchise partner, will enable you to diversify away from traditional industries and generate strong returns on franchise investments right from the start" said Mr Bhardwaj.
To find out more, please contact us

About IWG
IWG is leading the workspace revolution. Our companies help millions of people and their businesses to work more productively. We do so by providing a choice of professional, inspiring, and collaborative workspaces, communities and services.
Digitalisation and new technologies are transforming the world of work. People want the personal productivity benefits of living and working how and where they want. Businesses want the financial and strategic benefits. Our customers are start-ups, small and medium-sized enterprises, and large multinationals. With unique business goals, people and aspirations. They want workspaces and communities to match their needs. They want choice.
Through our companies we provide that choice, and serve the whole world of work: Regus, Spaces, No18, Basepoint, Open Office and Signature. We create personal, financial and strategic value for businesses of every size. From some of the most exciting companies and well-known organisations on the planet, to individuals and the next generation of industry leaders. All of them harness the power of flexible working to increase their productivity, efficiency, agility and market proximity.