IWG announces webinar date
IWG, the world's largest flexible workspace provider, has announced plans to host an online webinar for the Australian market in August 2021.
Learn from industry experts and discover how IWG help you to grow your business
This event will connect thousands of like-minded professionals and entrepreneurs by helping them to understand and learn more about IWG's attractive franchise business opportunity and investment on offer to potential business owners.
Registration link
About the webinar
Looking to diversify your financial portfolio? Now might be the time for you to take the jump.
The global market leader of flexible workspace solutions, IWG, has launched an exciting franchise opportunity with its brands Regus, Spaces, Signature and HQ.
Join the online webinar to learn about the flexible workspace sector and the unparalleled returns that this investment opportunity has to offer. Discover how to become a franchise partner and how IWG supports their partners, and the potential for future growth in this rapidly growing sector.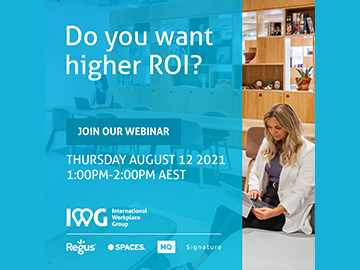 The high demand for flexible workspace continues to grow as more and more people adapt to a new way of working.
Speakers
Mark Bhardwaj, IWG plc, Head of Partnership Growth in Australia and New Zealand
Damien Sheehan, IWG plc, Country Manager Australia
IWG has a 30-year track record of delivering the best real estate solutions for businesses. With locations in almost every country, city, town and transport hub, and options ranging from an hour's coworking to multi-year office space leases, they allow people and businesses to have a fantastic day at work - every day.
Interested in franchising in New Zealand? Register for the next IWG webinar: