Launch Your Franchise Competition Partner: MizziSoft
Since 1992 MizziSoft has strived to be a workforce management innovator that offers rostering, award interpretation, automated time and attendance, payroll, flexible working arrangements by activity recording using dedicated time clocking devices such as facial recognition, mobile, PC, tablets and Employee Self Service. Planned and unplanned absences, current and future scheduling, workforce optimisation, modelling, legislative compliance and skills tracking.
Our aim is to reduce the amount of manual interpretation and input by administrators, managers and supervisors, including streamlining the Payroll & HR departments.
Through the power of the cloud our technology connects our customers in Health, Aged Care, Emergency, Hospitality, Call Centre's, Mining and Education. MizziSoft's EzHrPay All-in-One System is designed for innovation, scalability and flexibility.
Tomorrow: Your Reward for Working Safely Today
A modern workforce solution, driven by technology, is more critical than ever for new or existing organisation's dealing with a reduced workforce or a more fragmented availability in their workforce due to the COVID-19 pandemic. The new complexities of operating amidst the various, and changeable, levels of restrictions that characterise the COVID-19 business environment now sees technology playing a key role in assisting businesses and helping them stay in business. As the winner of MizziSoft facial recognition temperature testing time clocks we guarantee Virus OUT and Safety IN your new venture.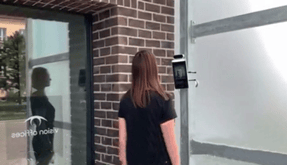 Contactless options are now a big focus - the ability to clock in and clock out on mobile devices so there's no physical contact with data collection terminals, for example, or incorporating facial recognition capabilities. Temperature taking technology can also have a positive impact on controlling risk and joins the list of current priorities, from an access standpoint for customers, suppliers and employees.
MizziSoft is excited to sponsor a facial recognition temperature testing clock including installation to the winner of the Launch Your Franchise competition.
For more information, please contact Jodie English on 0427 577 688 or j.english@mizzisoft.com
To find out more about the 'Launch Your Franchise' Competition, visit our website or book a call to speak to one of our expert franchise consultants.